O objectivo deste tópico é juntar vídeos e outros documentos que tenham informação de como as equipas se devem organizar na rua bem como outras dicas de como fazer livestream em diferentes aplicações.

Última edição por PTrevolutionTV em Ter Set 10, 2013 10:42 am, editado 2 vez(es)
Última edição por PTrevolutionTV em Ter Set 10, 2013 11:09 am, editado 1 vez(es)
How to Set Up a Live Streaming News Cell @http://globalrevolution.tv/how-to/how-to-set-up-a-live-streaming-news-cell
This "how to" will focus on how random teams of 2 or more people can set up a coordinated Live Streaming Video News Cell with minimal investment using the technology that you may already have available to you.
How To Stream BASIC
The cell phone method will require
⁃ Iphone or android phone
⁃ Ideally you'll have a 4g wifi hotspot or 3g, if you have only your phone and unlimited service that should work too just maybe not as smoothly
⁃ phone apps to choose from
⁃
http://www.ustream.tv/
⁃
http://qik.com/
⁃
http://bambuser.com/
Bambuser seems to be easiest to find a tagged stream and they have far fewer commercials. By coordinating with your team to agree upon a keyword for the title of your streaming videos those looking to mix your stream into channels will be able to find it easily in the bambuser live search results. Example "Occupy MyCity Labor March" would show up for anyone searching "Occupy" (like GlobalRevolution.tv) &/or MyCity (like your local stream mixer)
To set the title for your bambuser stream (after downloading the app)
open the app on your phone and click the cog looking thing (settings)
scroll down to "Title of Broadcast" and enter your text.
done
HotSpot Considerations
Sprint, TMobile, Verizon
Usually great coverage, expensive plans with bandwidth restrictions and/or OVERAGE charges.
Best seems to be Verizon but the overage costs should be planned for 10 gigs a month included with 80 dollar plan. Overages cost roughly 10=20 bucks an hour depending on bitrate of the stream.
Clear.com
Has 4g UNLIMITED service plans for 45 bucks for 1 or 75 bucks for 2 spots on the same contract. The hotspots cost about a 100 bucks. They have very Limited service areas mostly in the metropolis's (check your area for coverage) A 2 pack would enable you to charge 1, use 1 and trade between.
Wifi enable your phone and configure it to choose your password protected hotspot
For battery life you will want to consider something like this
http://www.energizerpowerpacks.com/us/products/index.html#portablechargers
this one is battle proven on Wall St.
https://www.google.com/search?q=energizer+xp4000
How to set up a LiveStream Channel
This is specific for livestream.com but the same procedures translate to doing it on Ustream but you will have a lot more ads.
http://www.livestream.com
Log in and got to the CHANNELS tab of your account
LAUNCH A NEW CHANNEL from the blue button right hand column
From MY CHANNELS
enter the STUDIO
CONFIGURE CHANNEL tab
brand your account using a channel logo etc in the configure channel area.
Be sure to add relevant links, like your donation page, wish list, associated websites
the corner bug is a small square logo like thing you can add to brand your stream
Test Cards could be use for variety of standard announcements (be right back, donate now, our channel rocks etc) these are good for cutting to quickly between cueing up transitions.
ADD PRODUCTION TEAM MEMBER
If you will be sharing the management of your channel This is where you add other livestream members to your online studio team. This will allow your team members to broadcast directly to your channel, mix cameras and manage production aspects of the live stream. Cell phone streamers will not need to be added to the production team ubless they are also helping to Mix the feeds, only those streaming with webcams, cameras or restreamers. The Camera Only setting will allow them to stream to your channel but not manage the channel.
MANAGE YOUR LIBRARY
This is where you import videos for your, we're not live now, playlist; the auto pilot.
The Import Videos tab opens first, these don't necessarily work.
click the Upload Videos tab and bring in your content that away.
Load some relevant videos into you auto pilot. Considering your issue and desired audience.
Use the CONTROL AUTO PILOT tab at top to arrange your uploads in the Auto pilot Storyboard.
Mixing LiveStream Camera inputs (multiple phones, cameras or screen captures)
This would be nicer with 2 computers but can be achieved with 1 but having a dual monitor system would be advisable.
Open your live stream channels STUDIO to the Broadcast Live Tab
Camera Inputs
Production Team Members can stream directly into the LiveStream studio by selecting your channel to broadcast to when starting the LiveStream DeskTop publishing app Procaster.
http://www.livestream.com/platform/procaster
Bambuser / Screen Capture Inpiuts
Open a new browser window with
http://bambuser.com/search/bambuser_search/Search+Term
(Search+Term being Title keywords agreed to with you bambuser streamers)
If some one is Live they will show up 1st in the list
Also in this browser window you would want a page for any associated Ustream feeds
Open your copy of Procaster
http://www.livestream.com/platform/procaster
Log in and you will be presented with a black box with a pull down menu that includes all the livesteam channels you Own or have permission to stream to.
If you have a bult in Webcam you will see another pull down below the big red Go Live button. This is where you select your input. No Camera means that you want to use a screen capture as your camera and have no intention of going live on camera from your webcam. If you select a webcam you will have the option to be Live on web cam or to screen capture a feed (Bambuser etc) OR to do both at the same time with a built in split screen effect.
You may want to so a speed test to determine the maximum nitrate in the quality pull down
http://speedtest.net/
Normal Quality is probably best even if you have a ton of bandwidth because you won't want to limit your audience by encoding too fat.
From the Procaster Prefences button
Livestream Tab
you will want to unclick "automatically go live" unless you are streaming from the field with your webcam and there are no other cams and/or no one manning the mixing Studio. Another reason to leave you "Auto Live box checked is if you are considered the on call emergency camera for an action.
record your streams
auto ad to library & auto add to Auto-Pilot if you wish to keep auto-pilot for … reruns.
From the Video Tab
each source will have independent settings (webcam & screen capture)
for low bandwidth applications 15fps will help your stream flow.
From the Desktop Tab
ensure that Show Mouse and Highlight Mouse are not checked unless you're planning to create a screen capture tutorial or powerpoint type presentation.
Save Your Preferences
Go Live
You now have a Procaster tool bar at the bottom of your monitor
Click the Mixer button.
If you are going to be on camera commenting on your screen captures you will need to ADD SOURCE the built in microphone. The Speakers Audio would be considered anything coming out of your speakers.
You may adjust the levels of your built-in Mic and your Speakers audio (Stay out of the red).
After you've adjusted your levels you will want to drag the audio mixer panel to the bottom of the monitor window to maximizes your work space.
Position the green screen capture box around the Bambuser or other live feed that you wish to broadcast on your channel. On 1st use you may need to click the Zoom Out button on the Procaster tool Bar in order to find the edges of the green capture box. Once you see the edges you can scale and drag it wherever you want. Careful placement of 2 or more live streams next to each other can be used to create spilt screen broadcasts when multiple feeds are available.
To comment live while streaming
With the Built In Mic source added
use Camera button on the Tool bar to comment on screen, on web cam
use Screen button on the Tool bar to comment off camera
use 2D Mix button on the Tool bar to comment in a picture in picture
use 3D Mix button on the Tool bar to comment on camera off to the side of the screen capture
If you do not want the audio from your built in computer mic broadcast on your channel make sure you do Not have the Built In Audio selection active in the audio mixer.
use of overlays, tickers
On going messages like phone numbers, donation links, meeting times and recent news can be delivered through the ticker tab in the livestream Studio.
Overlays for labeling on screen content. Is it live. What is it. Who is it. Where is it etc
~~~~~~~~~~~~~~~~~~~~~~~~~~~~~~~~~~~~~~~~~~~~~~~~~~~~~
Streaming Advanced
The computer and web cam method
we've found Logitek 910 to be pretty good for the money
You can use livestream.com or ustream.com or bambuser to serve the feed
LiveStream has fewer commercials and with their ProCaster desktop app it's pretty easy to adjust settings
you can walk around holding the laptop or
put it in sleep and stick in a backpack if you can make sure the usb cord won"t come out or
some people enjoy putting it in a baby stroller or other rolling device
The computer and camcorder method
long yet manageable firewire cable securely attached to both camera and computer (think duct tape)
You can use livestream.com or ustream.com to serve the feed
you can walk around holding the laptop and your camera or
put it in sleep and stick in a backpack or
some people enjoy putting it in a baby stroller or other rolling device
Streaming with a camera and no computer
Livestream or Ustream
Teradek
http://teradek.com/
expensive, lots of parts to attach to your rig, somewhat troublesome to configure well
Coming in February
http://gopro.com/
will release it's live streaming attachment
Última edição por PTrevolutionTV em Ter Set 10, 2013 11:08 am, editado 1 vez(es)
http://www.streamingmedia.com/Articles/Editorial/Featured-Articles/Ustream-Justin.tv-Livestream-and-Bambuser-Streaming-Unplugged-83016.aspx
If you have a camcorder at any enterprise, institutional, or even social event, you should consider streaming that event live. Live streaming can be free or relatively inexpensive, and live streaming services such as Ustream, Justin.tv, Livestream, and Bambuser are all reasonably easy to use. In the pages that follow, I present reviews of these four services; there are more out there, but these four have emerged as leaders, particularly during the Arab Spring and worldwide Occupy protests of the past year.
All live streaming services providers (LSSPs) share three main components -- the channel page, the embeddable player, and encoding options -- and these are the three areas I focused on in the reviews that follow.
The channel page is the page on the service's website where viewers go to watch your videos. This is obviously most important to organizations that want the bulk of their views to come on the channel page, as opposed to an embedded player on their own site or on a third-party site.
When comparing the channel pages, I looked at page configurability, monetization options, the number of eyeballs that the streaming service could direct to your video, social media options, and the playback experience on iOS and Android devices. For those who want to control the distribution of their videos, I also looked at the access control options available for each site and alternatives for moderating or otherwise controlling chat and comments.
Regarding the embedded player, I looked at how the feature set compared to the channel page; for example, whether you could access the same level of chat and social media-related functions and your video library. I also looked at how the embedded player performed on Android and iOS devices and whether the site could embed a video feed into Facebook, as opposed to providing a link back to the channel page.
All of these LSSPs offer browser-based encoding tools driven by the Adobe Flash Player, which provided ease of use but universally poor quality since Flash Player uses very outdated codecs. So here, I looked at the feature set and ease of use of other encoders offered by the site, as well as how easy the service made it to use third-party encoders such as the Adobe Flash Media Live Encoder and Telestream, Inc.'s popular Wirecast.
Ustream
Ustream is the largest live streaming service provider and offers an unlimited free live streaming service funded by advertising, as well as white-label versions starting at $99 per month. Otherwise, Ustream is competent throughout, with highlights such as the ability to deliver multiple user-selectable streams. My only reservation is the clumsy embedded player; it would return me to the Ustream channel page when I click any videos in the library.
Ustream offers extensive monetization programs, including advertising splits, and pay-per-view and subscription offerings. Ustream also offers lots of control over your videos. You can make any individual video private or only viewable by those in a group. You can also make your channel private, remove it from Ustream.tv, and restrict embedding to specific URLs. Corporate sites might also value the ability to moderate all comments before they appear, while all users will appreciate the easy ability to download previous broadcasts.
CHANNEL PAGE
Ustream offers very rich channel pages and an equally rich broadcast experience. Notable features include the ability to schedule broadcasts, which appear as upcoming shows on your channel page. Once completed, you can add highlights in your broadcasts, which are essentially cue points with a short text description that viewers can jump to. You get all the expected social media options such as tweeting, liking to Facebook, and +1-ing to Google+.
On the design side, you can add iFrames to your channel page, creating custom content boxes that you can populate as desired. Beyond that, Ustream lets you create extensions that display links beneath your videos to products that you sell (on Amazon, iTunes, or Thumbplay), your Twitter and Facebook pages, and banners that you can link to your website or any other site. That's how I created the link to my book beneath the player in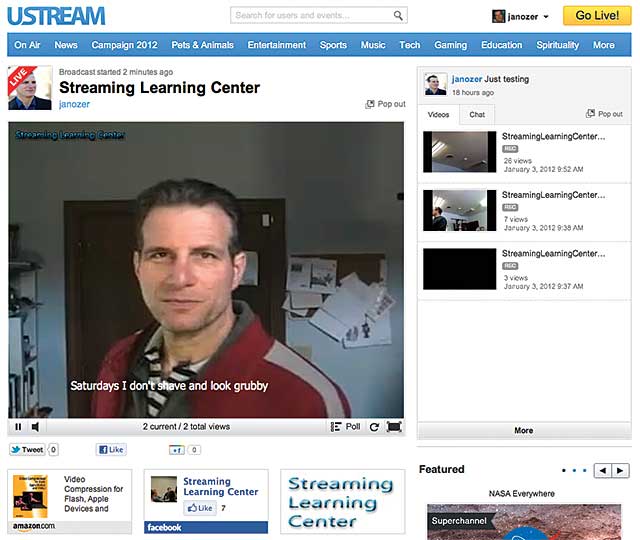 Figure 1. You can also see the Streaming Learning Center text overlay on the upper left of the video in Figure 1, another nice (and rare) design option.
When your channel isn't live, you have several options, including playing your last recorded video, a specified playlist, or a slideshow that you can create in the administrative module; all are great options to make sure that your channel never goes dark. This worked well on my desktop and Android players, though on my iOS devices, Ustream simply showed a video window with the message "This content is currently not online" in both the channel player and the embedded players. During the broadcast, you can add text overlays to your live stream (see Figure 1) or post polls, though neither of these appeared on videos playing on my iPad or iPod touch. They did appear on my Android-based Toshiba Thrive and in the embedded player.
Live 1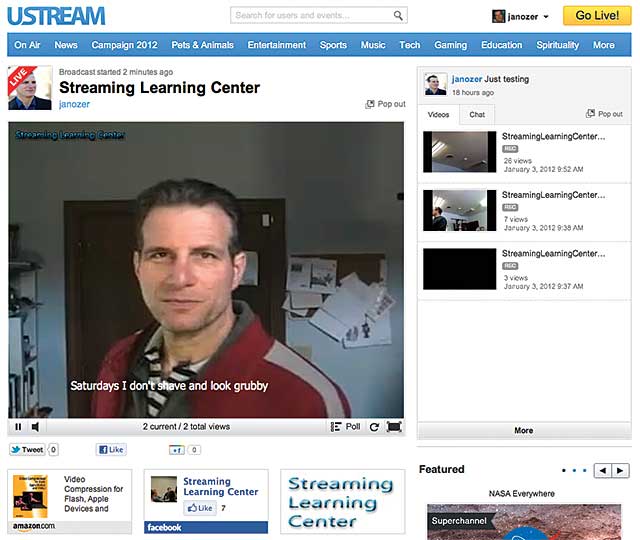 Figure 1. The Ustream landing page is very feature-rich, including those links to ecommerce sites such as Amazon beneath the player.
On the iPad, Ustream took a few moments to "optimize" the stream, and then it played in a window with frequent pauses for rebuffering. I asked a Ustream rep about this, and he said that the stream needs to be repackaged for iOS. But once this is done, subsequent users should be able to play the files without this lag, which my tests confirmed. On the Toshiba Thrive, the video played quickly and responsively within the video window on the page, with very little latency.
EMBEDDED PLAYER
Ustream's embedded player is not a particular strength of the system. You have two options: You can embed the live video player --  sans chat or access to the video library -- or you can embed the Social Stream, which provides access to the video library and chat (Figure 2). Of course, you can embed both, but the result is a bit clunky -- two separate but related clumps of content on a page (Figure 3).
Live 2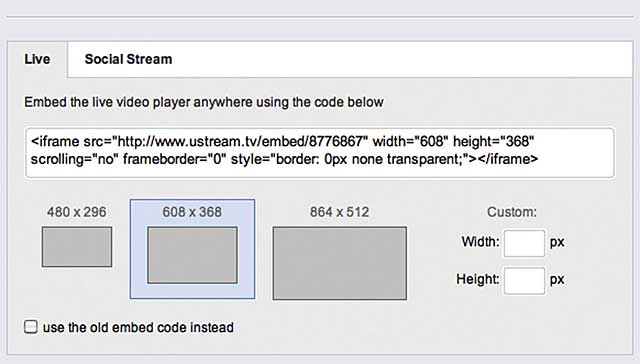 Figure 2. Ustream's embed options: You have to embed both Live and Social Stream to have access to your video library and chat.
Live 3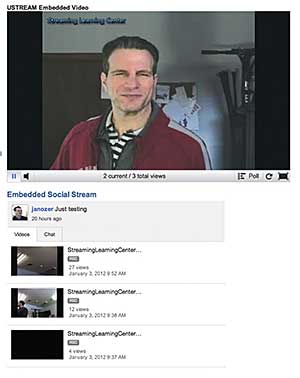 Figure 3. Two embedded players, one atop the other    
The embedded player itself is functional, so long as you embed both parts; otherwise, your viewers won't get chat or access to your video library. On my test computer, my iPad, and the Toshiba Thrive, the live video stream played in the embedded video window. On the iPod touch, the video played in full screen.
However, if you click a video in the video library in the embedded player on any platform, the viewer jumps to your Ustream channel page to play the file; with Livestream and Bambuser, the file plays in the embedded player. I asked the Ustream rep about this, and he said that the video should play in the embedded player and that the company would look into what was happening.
THE BROADCAST EXPERIENCE
Ustream's browser-based encoder is both easy to use and well-featured, though lacking specific data rate control, which is frustrating when broadcasting over limited bandwidth. As you can see in Figure 4, beneath the main encoding controls are tabs where you can access the tools for adding text and polls and disk-based videos, which is a nice feature for longer events when you'll need a break in the broadcasting. Video quality was very good at the maximum quality setting, which had no problem streaming through my 800Kbps or so outbound connection. CPU use during the broadcast on my HP 8760w EliteBook notebook, with a 2.3 GHz four-core i7-2820QM CPU, maxed out at 11 percent.
Live 4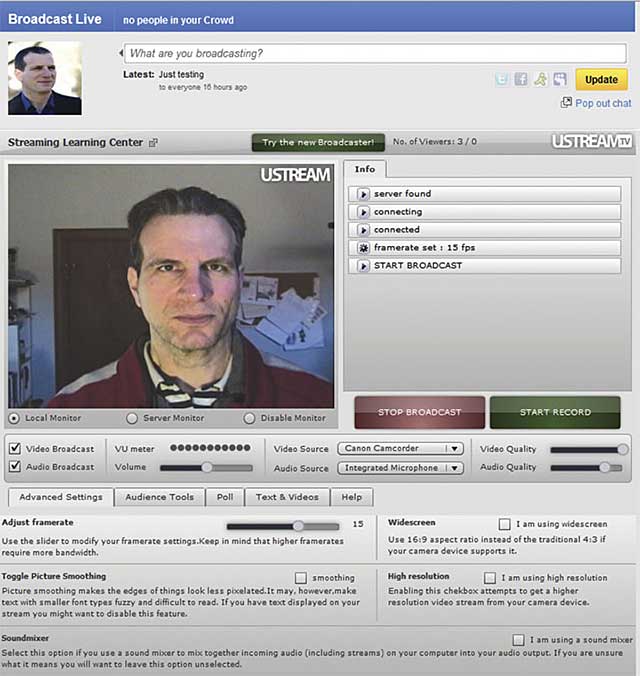 Figure 4. I liked Ustream's browser-based broadcast module.    
In addition to broadcasting from the browser, Ustream also offers three desktop applications, Ustream Producer (free), Producer Pro ($199), and Producer Studio ($549), all de-featured versions of Telestream's Wirecast Pro. There's a handy-dandy features table on Ustream's website (
www.ustream.tv/producer)
that details the differences in the versions.
If you're encoding with Adobe's Flash Media Live Encoder, you can download an XML file with your configuration information; for other encoders, Ustream provides the RTMP URL and Stream Key, which should get you up and running with no problem. Note that you can't produce multiple streams for Ustream to distribute with the browser-based encoder but you can with any Producer version or third-party program that can produce multiple streams, including the Adobe Flash Media Encoder.
After your big event, Ustream provides playback metrics that show unique viewers and viewer hours, as well as the number of highlights created from your videos, the size of your crowd, and the RSVPs received for your events. You can view all metrics in a graph or export the raw numbers as a PDF or CSV file.
Ustream's size allows it to deliver lots of eyeballs to your channel page, if that's what you're looking for, and the site offers competent or better functionality in all critical areas, particularly channel page customization and ecommerce options. The site needs to be on the short list of any organizations seeking an LSSP.
Justin.tv
Justin.tv is a great site for those seeking eyeballs in the gamer/skateboard set, but there's no whitebox version, so you can't eliminate advertising in or around your webcasts. Encoding controls were simple, so it's also a good option for technically unsophisticated users, though video quality was very modest, as were the features surrounding the embedded player, which will not play in iOS devices unless the user buys an app.
CHANNEL PAGE
Justin.tv offers good control over the videos on your channel site, including the ability to password protect them and to prevent others from embedding them or exporting them to YouTube (Figure 5). That said, you can't download your broadcasts, which was a feature offered by most other sites.
Live 5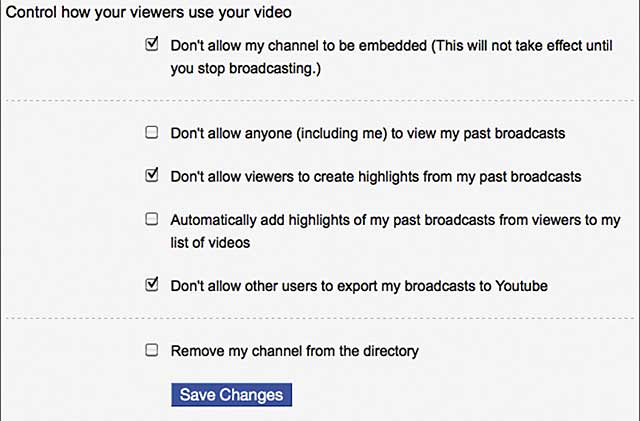 Figure 5. Justin.tv provides good control over videos on your site.    
Channel page configuration options are extensive. Chat functions are well-configured, with native chat facility that lets you ban certain words, ban certain chatters, and add a Twitter hashtag to all messages. Additionally, visitors can tweet about the channel page or any specific videos, like the page for Facebook, or spread the word about the video via MySpace or regular email. In addition, if enabled, they can create highlights from your videos, essentially excerpted portions with separate titles and descriptions.
CHANNEL LANDING PAGE
Justin.tv's channel page has good links to social media, but it has lots of ads, and video quality was mediocre using the site's browser-based player (Figure 6). If you try to watch videos on your channel page on an iOS device, you'll get a pitch to buy the required app, but then you can navigate to the full website, where you'll see the video thumbnails. But if you try to play a video, you'll get a Flash error message. The channel site worked fine on my Toshiba Thrive, but that was in Flash, an experience that will degrade over time since Adobe will not continue to advance the Flash player on that platform.
Live 6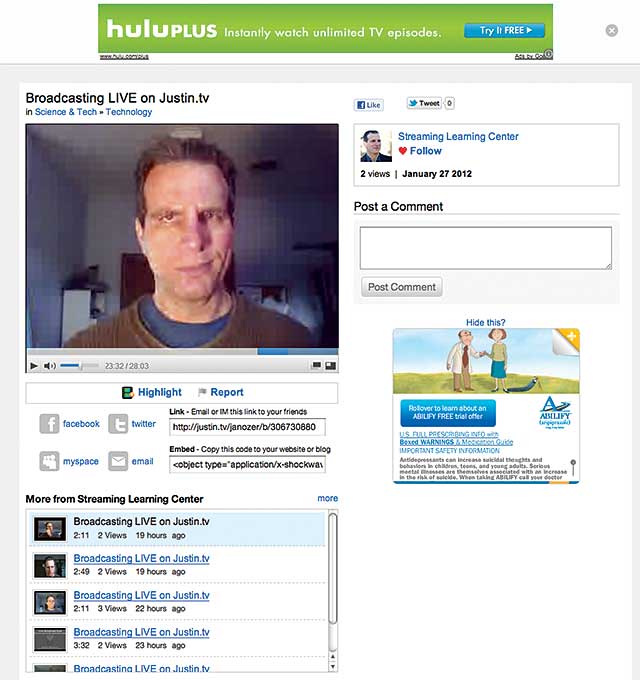 Figure 6. Justin.tv's channel page has good links to social media, but it has lots of ads, and video quality was mediocre using the site's browser-based player.
EMBEDDED PLAYER
Justin.tv's embedded player is a simple player window, with no social media links, branding, or access to older content (Figure 7). You can add a chat window, but as with Ustream, you have to embed the player and chat function separately, and the result is not as compact as other solutions. Other sites offer a lot more here; for example, Ustream lets you choose a video playlist or slideshows to present when you're not broadcasting, and Livestream and Bambuser let you display your entire video library in the embedded player and include links to social media.
Live 7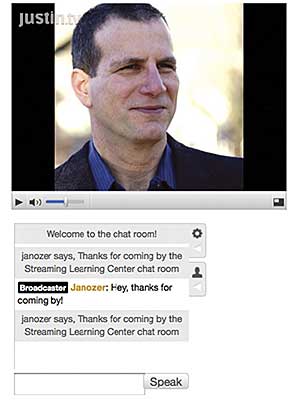 Figure 7. Justin.tv's Plain Jane embedded player is bulky because the player and chat are not integrated.
The embedded Justin.tv player didn't appear in the iPad or iPod touch, which was expected. On the Toshiba Thrive, the thumbnail appeared, and the video played normally. Speaking of embedding, from the broadcast console, you can connect to your Facebook account and embed the video on your wall, to a page, in a group, or on a friend's page.
THE BROADCAST EXPERIENCE
Broadcasting is exceptionally simple. Once you sign up, click Go Live and then click Allow to let Flash player access your camera and microphone (Figure 8)and then click Start. To set up video, you can choose the camera and adjust a bitrate slider with a floating tool tip showing the data rate. You can't directly control details such as resolution, audio bitrate, or configuration, so it's better for newbies than control freaks. With audio, you can choose an input device and adjust volume, with a volume meter to help you make your adjustments.
Live 8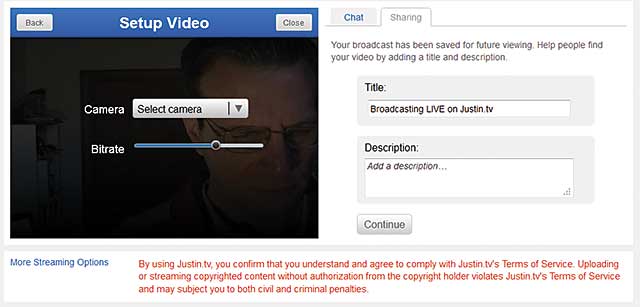 Figure 8. Justin.tv's browser-based capture tool favored ease of use over configurability.    
At 500Kbps, the video was noticeably blocky, as you can see in Figure 6. At 700Kbps, video quality improved noticeably, but it was pushing the limits of my outbound DSL, and I experienced significant frame dropping and stuttering. I checked CPU utilization on my HP 8760w EliteBook notebook, which has eight cores with hyperthreading technology enabled, and it maxed out at 9 percent CPU.
Broadcasting to Justin.tv via Telestream Wirecast was simple. Just choose the Justin.tv output setting and enter your username and password; Wirecast logs you right in. It's pretty sweet, and with presets for Livestream, Ustream, and other services, the experience should be similarly polished on those platforms. Not only was Wirecast easy to use, the quality was much better than that produced natively by Justin.tv, most likely because I used the H.264 for Wirecast while the browser-based version uses the Sorenson video codec.
With Flash Media Live Encoder, things are more complex, but Justin.tv has a short tutorial that walks you through downloading an XML configuration file, importing that into Live Encoder, and setting the necessary configuration options. If you choose Justin.tv as your live streaming service provider, consider using a third-party encoding tool that produces H.264, which looked great at 500Kbps. No matter which encoding option you choose, however, you can't produce multiple streams, as that's not a feature offered by the site.
Overall, Justin.tv's clear strengths are its ability to reach young viewers and ease of use, while notable deficiencies include the inability to disable advertisements, an anemic embedded player, and the lack of free iOS playback. While Justin.tv is a wonderfully popular site for its target audience, it wouldn't be my first choice for live streaming facility unless I was trying to reach that audience.
Livestream
Livestream offers a fully featured landing page and embedded player, three free encoding options, and the abilities to upload disk-based video files and import videos from YouTube, which makes it close to a full-service online video platform. Extensive social media support throughout and an impressive metrics package should also place it on the short list of any enterprise seeking a live streaming service provider.
In terms of size, Livestream is one of the top three live streaming service providers, with free service limited to SD resolution at 500Kbps and for-fee packages for HD video starting at $350 per month. The service offers multiple monetization opportunities, including advertising splits and pay-per-view and subscription offerings.
Livestream offers good control over who can view or embed your videos. For example, you can require viewers to input an email address before viewing (though there is no verification) and/or require password protection. You can also remove your site from the Livestream Channel Guide, limiting visibility and access even further, and limit embedding to specified URLs.
CHANNEL PAGE
Livestream's channel page is feature-rich and highly configurable, with the ability to control almost every item that appears on the page (Figure 9). You can upload a banner logo and set the target URL, upload a custom watermark for displaying over the video, schedule upcoming events, and use a native chat function, with moderation, or Facebook and Twitter chat.
Live 9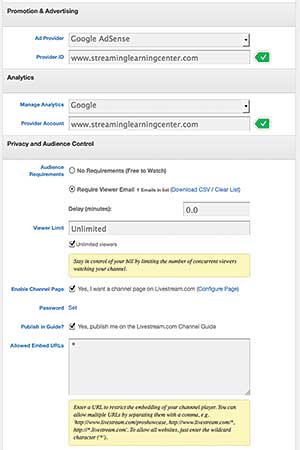 Figure 9. Livestream's landing page options    
Other social media support on the channel page is extensive and configurable. As with Ustream, viewers can embed video into their Facebook walls so that it plays in Facebook, rather than simply providing links to external channel pages. Your viewers can also post links to the videos in Twitter and MySpace and via email; they can leave comments via Facebook, so their comments get posted to their walls and your channel page simultaneously (Figure 10).
Live 10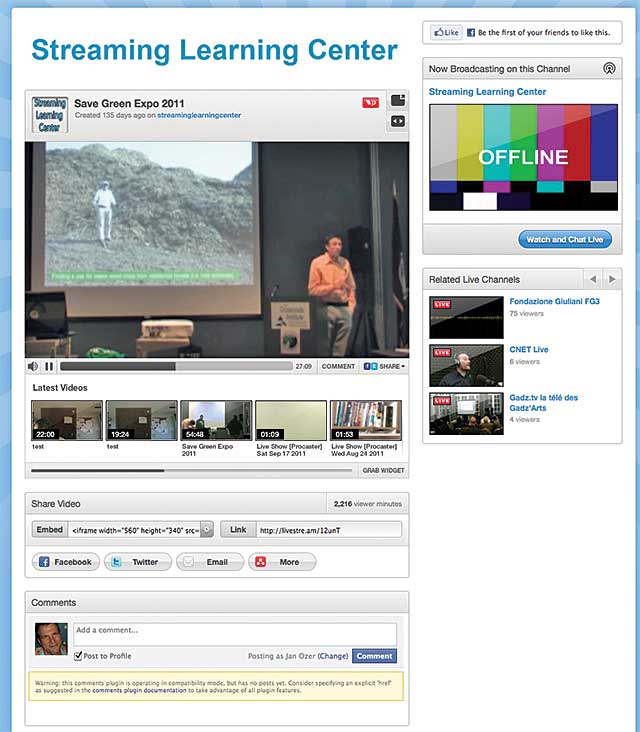 Figure 10. The Livestream channel page    
All that said, Livestream lacks some features offered by other services, such as Ustream's ecommerce-related extensions or the ability for viewers to post video comments. While the most configurable, Livestream isn't the most feature-rich, though it is close to the top.
In operation, the channel page worked as expected on the desktop and on my iPad. On the iPod touch, it was too small for use, so viewers would be better off downloading the free app. On the Android-based Toshiba Thrive, the page looked normal, but all video playback was at full screen.
EMBEDDED PLAYER
Like Bambuser, Livestream offers a compact player with all the required features, including access to the video library and chat, customizable size, and full pre-embed preview, so you can see what you're getting before you embed it (Figure 11).
Live 11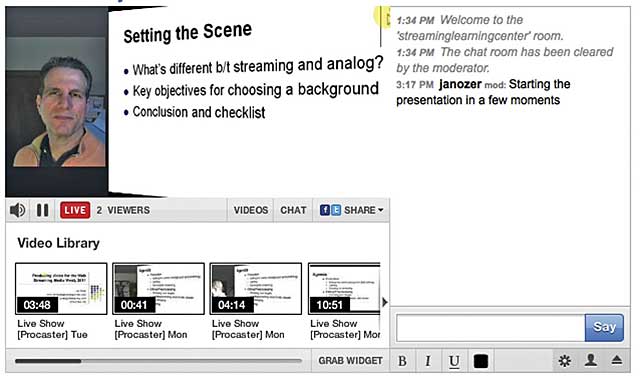 Figure 11. The embedded player, showing a view of Procaster desktop streaming with the video shown in 3D mode
Note that the embedded player only displays this way on the Flash platform. On both iOS devices and the Toshiba Thrive, when I wasn't broadcasting, the embedded player appeared as a black box with color bars and a message: "This channel is not live. Only live streams and mobile compatible video clips appear on mobile devices." Also, the video library was not accessible.
BROADCASTING LIVESTREAM
Livestream offers three free encoding tools, the browser-based Webcaster and Studio encoders, and Procaster, a desktop application available on Windows and the Mac. Webcaster is based on the Flash Player and provides three video presets, Low, Medium, and High, but the data rate and resolutions aren't specified or controllable, which is frustrating when you're trying to stream via bandwidth-limited connections. Webcaster also provides access to chat and social media links, so you can broadcast and promote from a single interface.
Studio is much more comprehensive than Webcaster, with the ability to mix live and on-demand content, switch between multiple live cameras, and cue multiple on-demand clips for 24/7 playback. This is especially alluring given Livestream's rare ability to import disk-based files and files from YouTube. But be advised: Studio is complex and difficult to learn. Like Webcaster, Studio doesn't produce mobile-compatible streams.
The final tool is Procaster, which produces higher-quality video than the other two encoders and offers the ability to produce multiple streams for desktop and mobile playback (Figure 12). Delivery isn't truly adaptive; rather, it's YouTube-style bitrate selection on the desktop and a single stream for mobile. Still, it enables the use of H.264 compression with direct control over frame rate, data rate, and resolution, which is rare in this product category and obviously useful.
Live 12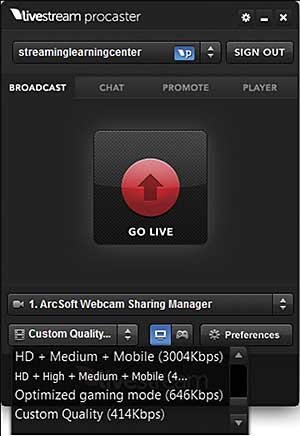 Figure 12. Livestream's Procaster can produce multiple streams, including a stream for mobile delivery.
In addition, one useful feature for the PowerPoint or software demo crowd is Procaster's ability to broadcast a screen, either stand-alone or with a 2D or 3D video insert, such as that shown in Figure 3. Also, during a broadcast, Procaster provides continual feedback regarding the event, with a status box telling you the frame rate, data rate, CPU utilization (less than 11 percent on my HP 8760w), and a warning if either CPU utilization goes too high or if encoded frames get backed up while pushing them to the server.
METRICS GALORE
Livestream provides comprehensive channel metrics, including the number of daily unique viewers and viewer minutes, daily streams, and daily peak viewers, as well as views by video title, the geolocation of your viewers, and the location of your embedded players and referrers. All reports can be customized for a particular date range and can be printed and exported into PDF.
In its current iteration, Livestream does a very competent job in all critical areas and should be strongly considered by any organization seeking an LSSP, whether looking for eyeballs, a strong embedded player, or both. In April 2012, Livestream will roll out a new platform that enhances the live feel of any streamed event, with the ability to blog and upload pictures and videos to the channel page in real time, before, during, and after the event. It will also enable true adaptive streaming for Flash and HLS-compatible mobile devices.
Bambuser
Bambuser's strengths include overall ease of use, support for more than 300 mobile devices for broadcasting and playback, the ability to deliver multiple video streams, and a compact embedded player. On the other hand, Bambuser lacks the traffic offered by Ustream, Justin.tv, and Livestream, making it a bad choice if you're hoping your LSSP can direct eyeballs to your videos. Also, Bambuser generally offers fewer features than these other sites.
Bambuser's channel page is plain and non-configurable but functional (Figure 13). The default view is a world map that shows the location of the broadcaster, which is unique and kind of fun. Other tabs show basic site information such as location and owner, comments from viewers, and sharing functions, which includes posting a link to Facebook, Twitter, and several other services, as well as chat. The channel page also provides access to all archived videos, plus live videos from other Bambuser broadcasters.
Live 13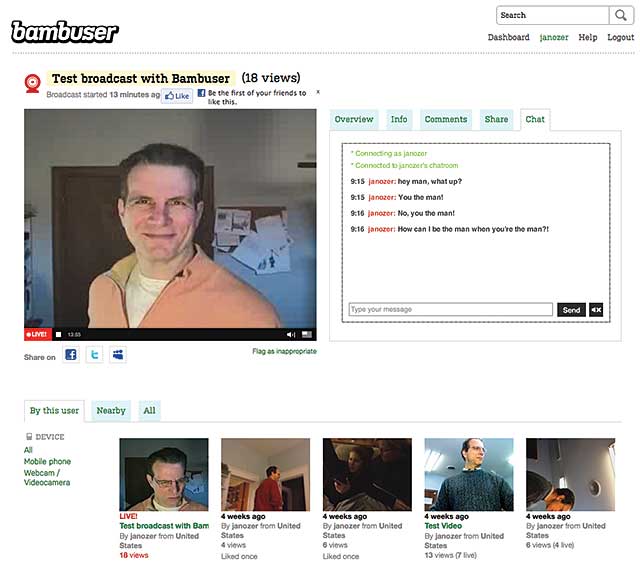 Figure 13. Bambuser's channel page    
Bambuser's access control is very limited; videos are either public, where anyone can watch them, or private, where only you can watch them, but nothing in between. Other sites offer the ability to password protect videos, which would have been useful. Other sites also offer more established programs for pay-per-view and subscription offerings, so Bambuser shouldn't be your top choice if you're seeking to monetize your video.
Bambuser's embedded player is compact and competent, packing a relevant range of features into a tight space that will fit neatly into a webpage. You can customize the size to your liking and choose to include or exclude features such as a Facebook Like button, sharing options, access to archived content, and basic account information (Figure 14). A preview mode makes it easy to see which options you're selecting.
Live 14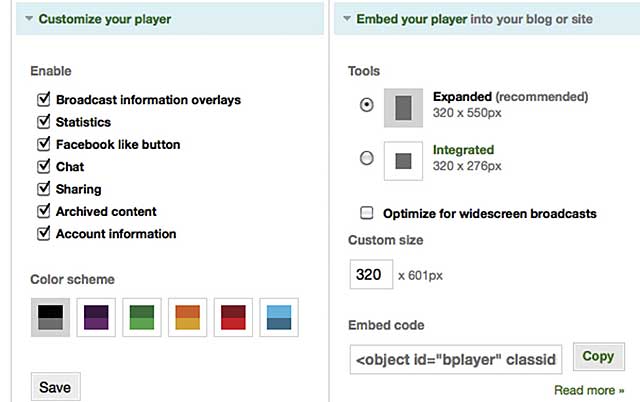 Figure 14. Bambusers' embedding options    
However, Bambuser doesn't offer advanced features such as Ustream's extensions or the ability to schedule broadcasts. Bambuser also can't match features such as accessing Facebook and Twitter chat during your broadcasts, which several other services offer, and it can't embed a player in Facebook to play video there -- you can only provide a link within Facebook.
BROADCASTING WITH BAMBUSER
Bambuser's browser-based broadcast console is easy to use but lacks features such as the ability to specify an outbound audio and video data rate, which is essential to a smooth live streaming performance. As you can see in Figure 15, you also have a volume control, frame rate control, and access to chat, as well as sharing options.
Live 15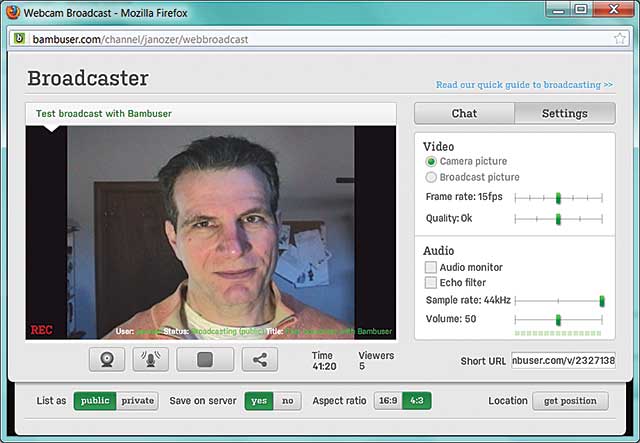 Figure 15. Bambuser's web-based broadcast module    
The embedded player (Figure 16) worked well during playback on my desktop computer and Toshiba Thrive, but the Flash-drive player didn't appear on my iPad or iPod touch device, though Bambuser should be offering HTML5 embed codes soon. The videos did play on my iOS devices from the channel page on Bambuser. On all platforms, the video played with minimal latency, but video quality was marred by faint blockiness throughout, which I saw in all video created using Flash Player-based browser encoder.
Live 16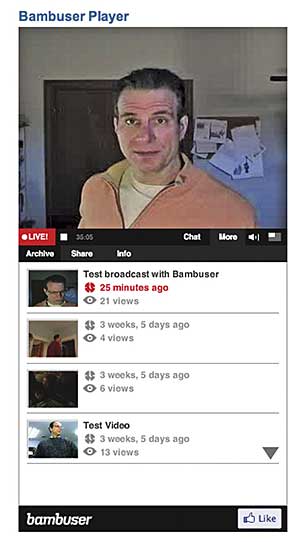 Figure 16. Bambuser's compact and efficient embedded player
Seeking improved quality, I went to Bambuser's channel page, which has clear instructions for working with third-party tools such as the Adobe Flash Media Live Encoder and Telestream Wirecast. Specifically, you can download an XML file from your channel page to import the tools that provide all the necessary login credentials and server addresses. After that, it's business as usual; choose your audio and video sources and start the broadcast.
Video quality was noticeably better using the H.264 codec available in both Wirecast and Flash Media Live Encoder, plus you get much more precise controls for audio and video bandwidth. If you choose Bambuser as your live streaming service provider, you should definitely consider using one of these third-party tools.
Since one of Bambuser's key strengths is mobile-based broadcasting, I ran some quick tests using the company's iPhone/iPod touch app (Figure 17). Once I got the free app downloaded and logged in, broadcasting was quite simple. In addition, unlike most other services, if you're broadcasting over bandwidth limited pipes, Bambuser captures the video on your mobile device at full quality and can upload the higher-quality file after the broadcast is complete. That way, you have a high-quality version to serve as your on-demand file.
Live 17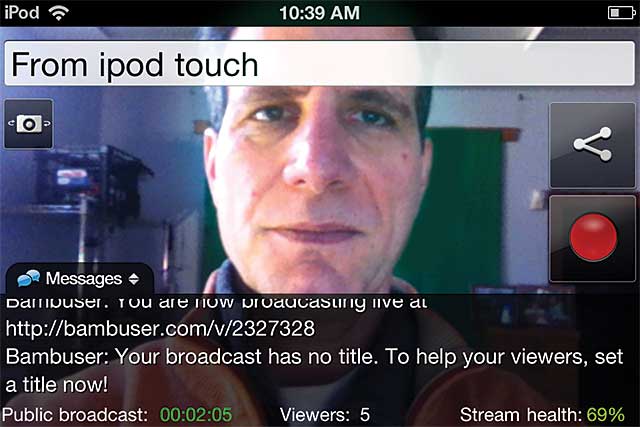 Figure 17. Broadcasting from Bambuser's mobile player was quite simple.    
On the other hand, Bambuser lacked features such as polling and chat, which were available on Ustream's iPhone app, though how you could shoot video on an iPhone and chat at the same time is totally beyond me (you probably need to be a teenager to accomplish that).
Consider Bambuser for your live broadcasts if you need extensive mobile support, which Bambuser lists at
http://bambuser.com/phones.
It's also a good choice for those looking for overall ease of use, since the relative lack of features does translate into a cleaner interface with fewer options. Avoid Bambuser if you're seeking eyeballs or established programs for video monetization.
This article first appeared in the June/July 2012 issue of Streaming Media under the title "Streaming Unplugged."
How To Broadcast Live Video From Your Mobile Phone with Bambuser
Posted by Brannon Cullum in Mobiles Phones in Activism, Video for Change
originally posted on February 10, 2011 -
http://www.movements.org/how-to/entry/how-to-do-live-video-broadcasts-from-your-mobile-phone-with-bambuser/
One of the tools as the forefront of citizen media is Bambuser, an application that lets you do live video broadcasting from your mobile phone. The app has proven to be popular amongst Egyptians participating in demonstrations against the government--so much so that the government initially blocked it when people first took to the streets.
So what sets
www.bambuser.com
apart from video sharing sites like YouTube, Vimeo, and Daily Motion? Content can be shared quickly, easily, and LIVE with viewers. Instead of recording a video and then going home and uploading it to another site, activists can provide a live feed of events on the ground as they happen. A Bambuser account can also be connected to your other social media accounts like Twitter, Foursquare, and Facebook so your friends and followers can be alerted when you start a new broadcast.
Bambuser works on over 250 mobile phones, including iPhone, Android, Samsung Bada, Symbian, and Windows.
Step 1.
Point your browser to
http://bambuser.com/.
Before you sign up, make sure Bambuser is available for your mobile phone. Click the link to "Supported phones" under the sign up button.  
Step 2.
If your phone supports the app, go ahead and click the "Sign up for free" button on the right-hand side. You can also sign up via your Facebook account.
On the sign up page, you'll need to create a username and provide an email address and password. Share your country location and then click "Sign up."
Step 3.
You'll then be directed to the "Get started" page. If you have an iPhone, download the Bambuser app from the iTunes store.
For all other devices, there are three ways to install the Bambuser app on onto your mobile phone. You can install via SMS, your mobile phone browser, or bluetooth.
Step 4.
Once you've installed the app on your phone, you're ready to login. Open the Bambuser app, choose "Connect," select an access point (3G or WiFi), and then type in your username and passworld.  
Tip!
Remember that your cell phone provider might charge you for the bandwidth required to upload video from your phone to the Bambuser servers and to broadcast over the GSM/3G network. Make sure to monitor how much data your are using on your plan and consider getting an unlimited data plan.  
Step 5.
Record your live broadcast! It will be available on your public channel page (http://bambuser.com/channel/yourusername) for anyone to see.  
Step 6.
Change your settings. On any Bambuser page, click the "Dashboard" tab at the top of the page. Under "Settings" you can add a profile picture, add a brief bio, and get the HTML code to embed your player on your own blog or site.
Step 7.
Under settings, configure other social media services you use like Twitter and Facebook to share updates when you are broadcasting on Bambuser. This way, people who follow you will know when you start sharing a live broadcast and can tune in.
Step 8.
Want to record a private broadcast? This broadcast will only be seen by you and won't be posted to third party services like Twitter or Facebook. To use Bambuser in private mode, go to your settings in the app and change from public to private.  
Step 9.
Configure your broadcast settings. You can change the video size, video quality, and audio quality.
From
http://www.witness.org
| WITNESS uses video to open the eyes of the world to human rights violations.
This video is part of a five-part "How to Film Protests" series, which incorporates the best practices WITNESS has developed with over 300 partners in 80 countries who are using video for human rights documentation and to create lasting change.
From raw documentation of human rights violations in Syria to the Occupy protests and the range of police abuse and misconduct therein, citizen video is an increasingly powerful tool for human rights documentation.
Now more than ever we need to ensure that the footage that we capture as activists incorporates essential information like the exact date, time and location so it may best be used by the media, as evidence, and for advocacy. Additionally, we need to pay special attention to the unique safety and security risks that we face as filmmakers and activists, as well as risks to those we capture in our footage.
--- How-to Film Safely and Effectively for Human Rights ---
This video series is broken into small, two-minute videos, and focuses on how to best prepare to film, choose and test your equipment, get good footage, film as part of a team and conduct interviews.
Whether you're filming the May 1st Occupy Wall Street protests and events or just want to be prepared to best use your camera phone if you are in the wrong place at the right time, watch these how-to videos to be best prepared to capture good footage that will be engaging, informative and can be used for potential advocacy and evidentiary use.
We are excited to share these tips in video and text. Let us know how they are useful for you, and what you would add to make them even better by adding comments to the videos or at
http://blog.witness.org
From
http://www.witness.org
|


Tópicos similares
---
Permissão deste fórum:
Você
não pode
responder aos tópicos neste fórum